Does your application require a rodless cylinder?
WCB rodless cylinders are the solution. Just look at our many different rodless cylinder choices and you can see how we make it easy for automation design engineers to standardize on the WCB brand.
We build most of our pneumatic actuators with stroke lengths from just a few inches upward to 23.5 feet standard and as long as 44 feet with rodless cable cylinders.
Space Savings.
All of our pneumatic actuators stroke along the body length to reduce space which equates to a smaller machine footprint. Up to 50% more space savings than traditional cylinders.
Industrial uses.

Textile machinery | Corrugated paper splicers | Cage washers | Packaging machinery | Printing machinery | Car wash systems | Shrink wrapping | Silk screening | Bottling systems | Material transfers | Automotive assembly | Gate openers | Part elevators | Animated displays | Safety systems
It's an even money bet that we have more than one solution for your application depending on your budget.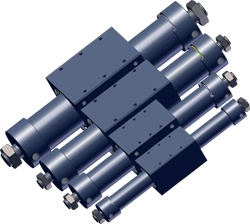 MAGTEC® Rodless Magnetically Coupled Cylinders offer a completely enclosed pneumatic actuator body keeping contaminants from penetrating or emitting. This is the right choice for demanding environments.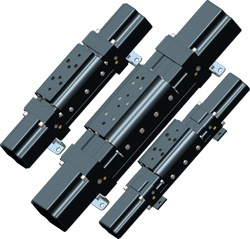 pneU-SA® [noo-es-ey] Rodless Cylinders provide guiding and load support along the length of its' body. Enclosed mil-spec rated cables connect the piston and carrier connector together, which ride in separate chambers.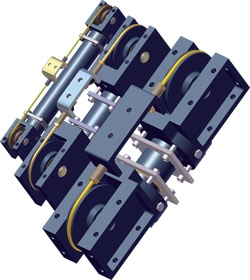 Double Acting Cable Cylinders from W.C. Branham stroke along their own body length and offers up to a 50% space saving footprint when compared with traditional rod-type cylinders that extend a rod when actuating.
DURATRK™ Rodless
Cylinders

The WCB creative engineering team has put 45+ years of rodless cylinder design and practical experience into DURATRK™ rodless cylinders. Our difference shows in the critical areas that matter.With the aid of FEA- Finite Element Analysis- we've produced a light-weight extrude body that maintains structural integrity under pressure.The main seal- vital to rodless cylinder life- utilizes a hook and lock function. This function keeps the seal in place-all the time. Our main seal design was perfected only after many hours of testing and re-testing. And, the proprietary quality techniques that we've adopted add to the dependability of our products.